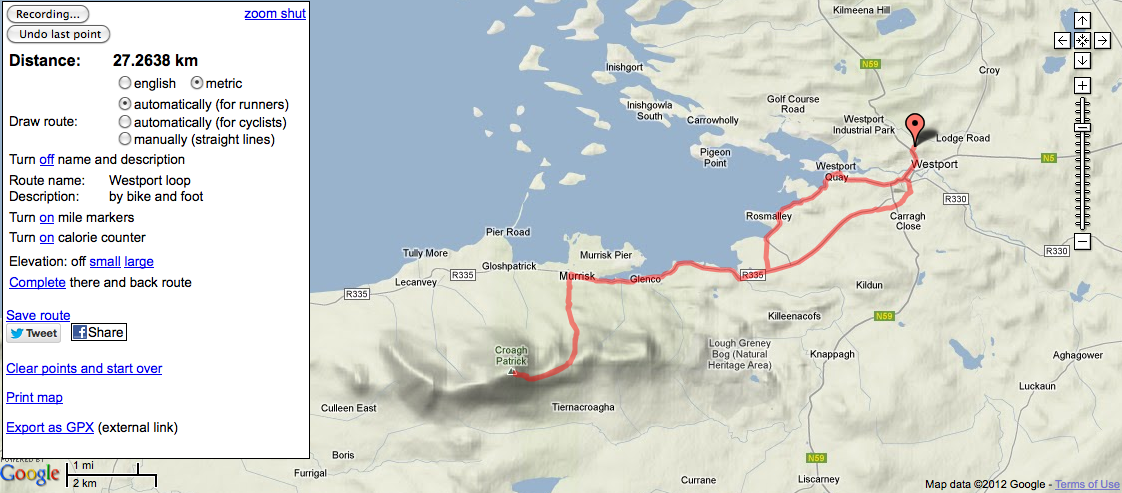 Route: We had all kinds of ideas for this last day, but many of them evaporated when it we realised that getting up to the northern part of County Mayo to see a neolithic fishing village was not going to happen. There was a huge music festival in Westport the weekend we were staying there, which was sort of neat to be around and overhear on the streets, but which meant the availability of things like taxis was not to be taken for granted. My second choice was to climb Croagh Patrick, a 700m-and-change peak and pilgrimage route, so i did that, optimistic that i would have time to bike to Turlough's and see a Museum of Country Life about which our guidebook said good things, after i was done.
On the way to the mountain, i rode through a bike race. A large number of cyclists on road bikes with numbers pinned to their shirts sped past me. By the time we got to the tail end of the pack, i felt i was doing a valuable service — a cursory glance would have made it obvious that i wasn't affiliated with the rack (no number, no road bike, too many panniers), but i was clearly effective in helping the lagging cyclists feel that they were faster than someone. I like to help.
At any rate, i did not make it to Turlough's — by the time i finished the mountain and ate lunch, it was mid-afternoon. So i futzed around on Westport's municipal bike paths, and then headed back to the B&B. We had a late-ish dinner at a nice Italian place, where i had a sadly-too-tomato-ey roasted squid appetizer, and spaghetti carbonara. We spent an hour or two in a random pub near the Octagon, listening to a guitar-and-banjo duo play trad, and then a very lively group playing instrumentals on fiddle, concertina, piano, and guitar.

Back in Murrisk

Croagh Patrick from the road

Instructional signage for pilgrims

Rocks by the side of the trail

Last view back before the trail shifted to the other
side of the ridge (about an hour in).

First view of the valley on the other side

Stone graffiti

More stone graffiti

Green valley is green

Me, photographed by some nice person

In the parking lot at the bottom, walking sticks
cost 3 Euros, and i had passed on the option. By
this point, i was starting to wonder how much one
might charge for a walking stick at the top.

View back towards Westport
In addition to miscellaneous pictures along the road, i stopped every 15 minutes while climbing to photograph the view back towards the water, the mountain itself, and the trail immediately ahead. Here's that series.
| | | | |
| --- | --- | --- | --- |
| | Looking back | The mountain | The trail |
| Start time | | | |
| 15 min | | | |
| 30 min | | | |
| 45 min | | | |
| 60 min | | | |
| 75 min | | | |
| 90 min | | | |
| 105 min | | | |

The top! A church built in 1905

"Wait five minutes and the fog will clear,"
someone advised me

Right... Wikipedia says someone has seen an
amazing view from here. But not me.

On the way down, i ducked beneath the fog again
fairly quickly.

A big lake in the valley

Me again, photographed by a woman doing a self-
guided walking tour of Ireland, with whom i
chatted while hiking down.

First view of the Westport side, now much foggier

Looking west along the water

Trail, water, and islands

A map

What's this? Seen on the way back into town

Model info for the excellent water-resistant
handlebag bars that came with our rental bikes.

Nifty water and wine pitchers, at dinner

Musicians