Ireland - Day 3: Oughterard to Inishmore (by bike and ferry)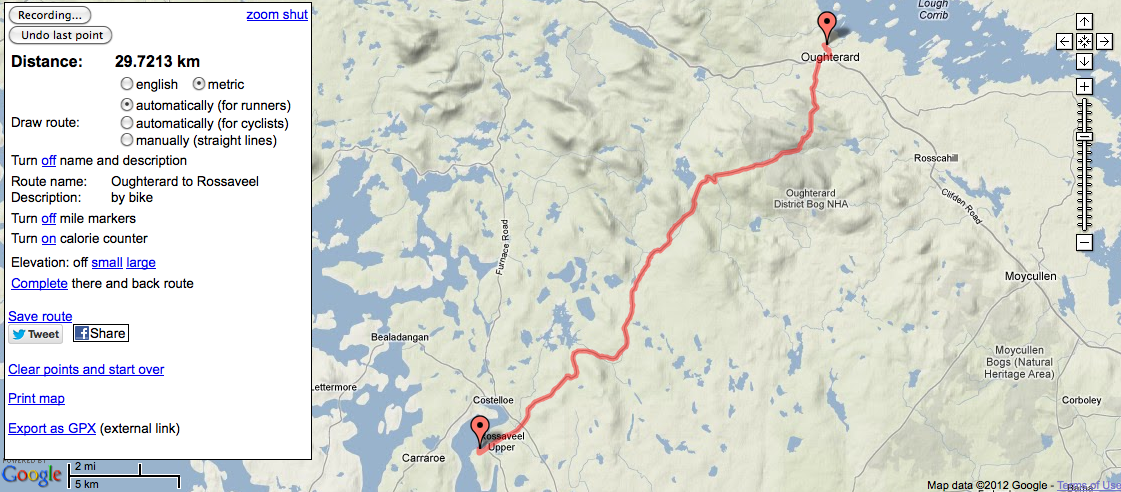 Route: we had breakfast at Waterfall Lodge, our B&B, and hit the road at 9:10. Our start was not without tension: we had to climb 250 meters over the course of our first 10 km of riding, and knew we were racing to make the 13:00 ferry. After we reached the top of the hill, it was smooth sailing down to the coast, where we made the ferry with 20 minutes to spare. The entire ride was gorgeous, through hills covered in sheep, with almost no car traffic.

On the road!

Green hills

The road ahead

Samira riding up the hill

One of many ponds we passed

Looking back towards Lough Carrib

Pond and mountains

The road, and a sign encouraging hikers

A stream

Tony assured us that the treeline would be the top
of our climb. It wasn't quite, but close enough
for morale's sake.

Fields containing peat
---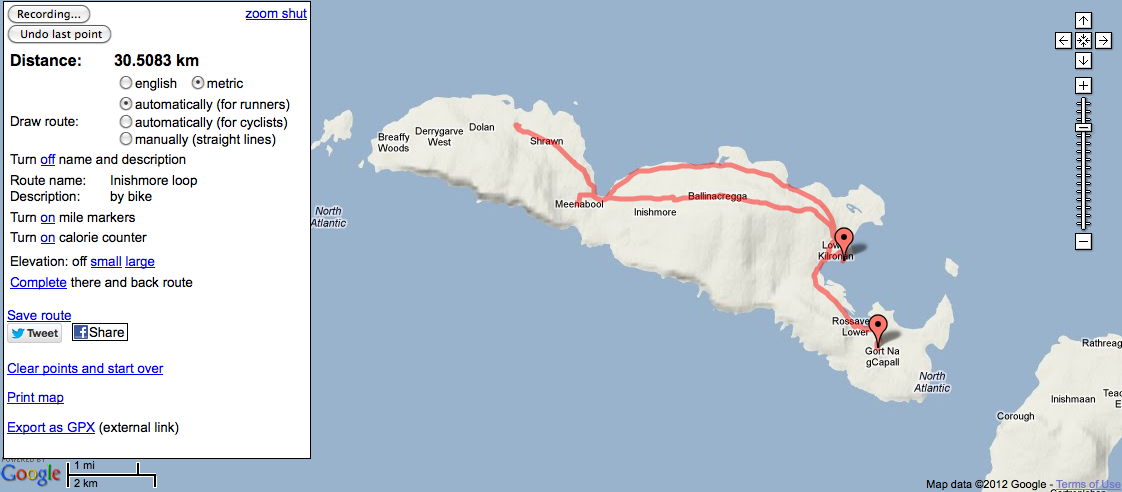 Route: We took the ferry (not pictured) from Rossaveel to Lower Kilronan, on Inishmore, the largest of the Aran Islands. Once we arrived, we checked into our B&B, and i did the recommended loop route to Dun Aengus and the Seven Churches, while Samira took a bus tour and learned some things about the history of the area. Not wanting to bike into town, we had a nice dinner at our B&B, Ard Einne, instead.

A donkey!

Characteristic Inishmore view of stone fences

Looking north toward the mainland

Rocky coastline

Stone ruins along the coast road on Inishmore

The ocean is very blue

Rocky coastline

Large rock. Seek alt. route.

Dun Aengus: ancient cliff fort, thought to have been
built in stages from 2nd century BCE through 10th
century CE or so. Very sunny, please excuse my
low-quality camera.

Outer wall of Dun Aengus

Outer wall of Dun Aengus

Close-up of wall: stones were laid by hand

Outer wall of Dun Aengus

A group of middle-school boys from Dublin on an
end-of-term trip. We met them on the ferry, and
they were pleased to see us again.

Coast view east from the courtyard of Dun Aengus.
You can see the Cliffs of Moher in the distance

Ocean view south from Dun Aengus

No safety railing - it's a long way down.

Inishmore landscape

Thatched roof

The Seven Churches: in fact just two ruined
churches, plus some support buildings and
a graveyard.

Seven Churches

A window in the largest church

Building with two chimneys, near Seven Churches

The best of several attempts to capture the sunset
from our B&B room window on Inishmore