Ireland - Day 2: Galway to Oughterard (by bus)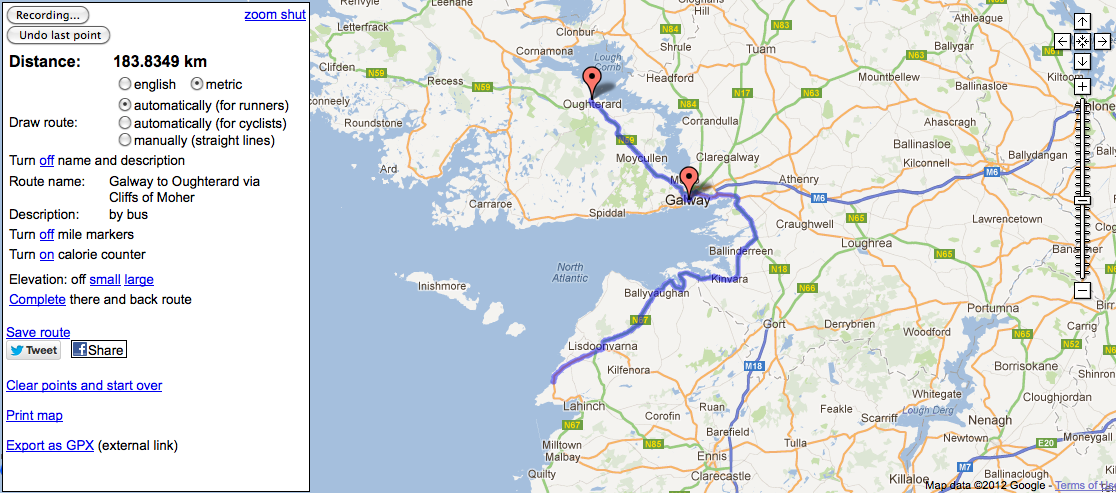 Route: we wanted to see the Cliffs of Moher before heading to Oughterard to meet the touring company rep. That didn't leave quite enough time for any of the full-day bus tours, so we took Bus Eireann (the local bus company) instead, hoping to get some views of the Burren from our windows on the way down and back. On the bus back, i had a long conversation with a woman from further south in County Clare, who was taking the bus back from an outdoor festival in the Burren, where she had stayed up late listening to pipers and accidentally slept on a historical artifact. She claimed to have moved from Belgium for the music.
Back in Galway, we picked up our luggage and headed up to Oughterard, where we met the rep, Tony, got the bikes and had our tour briefing, and ate dinner in Oughterard (salmon with an appetizer of salmon, due to a kitchen mixup, but it was good anyway). At our B&B, we packed our panniers for the next week and prepared to turn over our suitcases to the touring company (who would drive them to Westport for us) and start on the actual bike trip.

Rocky hills seen from bus

More rocky hills

Ruins seen from bus

Bus window view of inlet, back towards Galway

Fiddle-playing statues, seen from bus

First view of the Atlantic

Another bus window view

Cliffs of Moher

Cliffs of Moher

Cliffs of Moher

Northwest view, the Atlantic and an observation tower

Caution: accelerate before attempting hurdles!

Coast view north from observation tower

View of Aran Islands from observation tower

Ocean view from observation tower

Warning: do not fall off cliff!

Caution: do not throw snakes!

Samira at the cliffs

Looking back at observation tower as we walk
along the cliffs

Looking down at the ocean

The ocean is blue

View from the bus on the way back

Stone fence! First of many...

Stone fences on a rocky hillside

Unknown castle we passed on the bus

After the bus dropped us off in Oughterard, we
wandered around lost for awhile before finding
the road to our B&B. We eventually found it, and
celebrated by photographing this stream.