Ireland - Day 4: Inishmore to Clifden (by ferry and bike)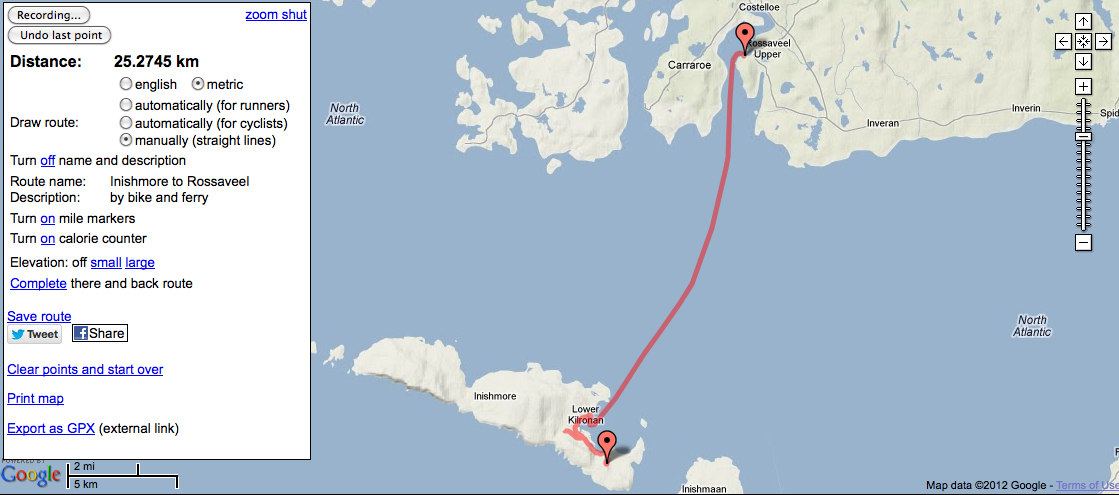 Route: we had breakfast at Ard Einne, then tried to find the Black Fort, another ruined fort, on our way back to South Kilronan for the ferry. We think we eventually found the fort, but we definitely found lots of characteristic Inishmore/Burren rocky terrain. We had lunch at the Port House Restaurant, where i had seafood chowder and an open-faced smoked salmon sandwich, before catching the ferry back to the mainland.

Ground made of cracked rocks near the
Black Fort in Inishmore

More terrain near the Black Fort

A stone fence

Cliff and ocean view

The Black Fort (we think)!
Also an impressive stone outcropping

The (probable) Black Fort

Splashing waves at the base of the outcropping

More Black Fort

Close-up of Black Fort

Breaking waves

Underside of stone bridge

A big rock with some kind of shiny lichen on it

Inishmore landscape

Inishmore from the ferry

Inishmore from the ferry

Ferry wake

Approaching Rossaveel from the ferry
---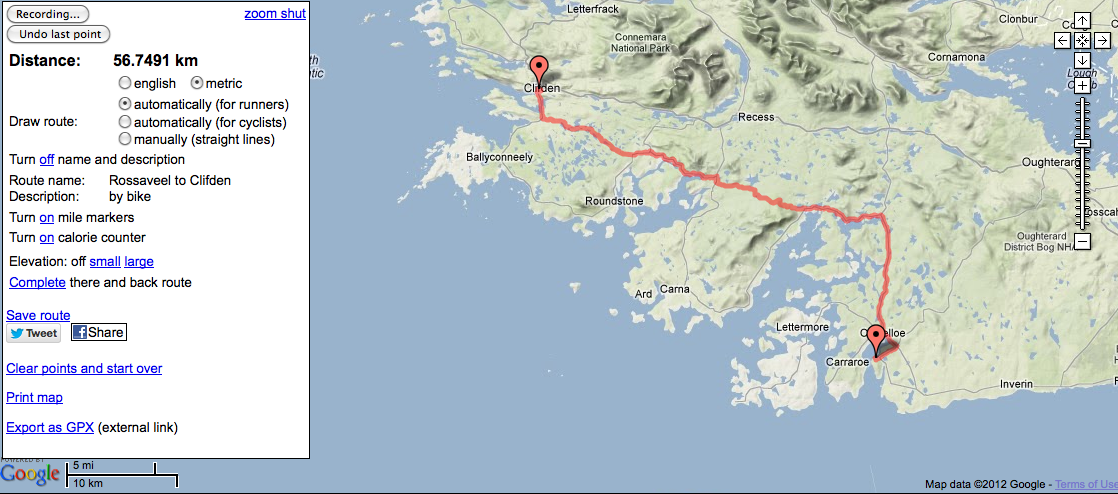 Route: After getting off the ferry, we did a 60km ride north, then west, to Clifden. Highlights included the views of the Twelve Bens (mountains in the center of the Connemara regions), peat, the Bog Road to Clifden, lots of sheep, and one donkey in the road. On the downside, we were tired and hungry by the time we got into Clifden, especially after a bad guess about which pub might be open left us with no tea. In Clifden, we had dinner at an Italian place, where i got a rather strange squid and sausage salad, and a very nice roast lamb in cous cous. At our B&B in Clifden, we met the couple who are a day ahead of us on the same route. We also finally met Wilma, the Iron Donkey rep with whom i had exchanged a lot of e-mail while we were planning the trip.

On the road from Rossaveel to Clifden

On the road from Rossaveel to Clifden

We took a break to tour the home of Patrick
Pearse, one of the leaders of the
1916 Easter Rising.

One of the Twelve Bens

On the road from Rossaveel to Clifden

Things are still very green

View of the Twelve Bens

View of the Twelve Bens

The road ahead

View of the Twelve Bens

Peat by the roadside

A truck carrying peat

Attempted panorama of the Twelve Bens

Greens growing by the roadside

The Bog Road to Clifden

The Bog Road to Clifden

Mountain view from the Bog Road

Mountain view from the Bog Road

Hillside in the bog

Rocks in the bog

Sheep in the bog